Community Information
Swan Upping at Moulsford
Annual Swan Upping activities arrive at the Beetle & Wedge river frontage at approximately 6pm one evening usually in the third week of July. Swan Upping is the annual census of the swan population on the River Thames.
If you are new to the village or never heard of or seen Swan Upping then it is worth a look at a very colourful and traditional river activity dating back from medieval times when the Crown claimed ownership of all mute swans for banquets and feasts!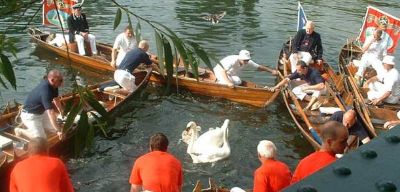 Nowadays the Queen only exercises her right to ownership of all unmarked mute swans on certain stretches of the River Thames and this ownership is shared with the Vintners' and Dyers' Companies, who were both granted rights of ownership by the Crown in the fifteenth century. The swans are counted but are no longer eaten.

The Queen's Swan Marker and Swan Uppers, accompanied by the Swan Uppers of the Vinters' and Dyers' livery companies use six traditional Thames rowing skiffs in their five day journey upstream which starts from Sunbury Lock on the Monday in the third week of July and ends at Abingdon Bridge on the Friday afternoon.
Scarlet uniforms are worn by The Queen's Swan Marker and Swan Uppers, and each boat flies their appropriate flags and pennants so all very coulourful. The swans are rounded up, counted and marked and then released back on to the water – fortunately swan isn't often on the menu for Crown banquets nowadays!
Attention ALL Properties Connected to Private Sewer in Underhill!

All properties that connect to this private foul water sewer in Underhill need to be aware that South Oxfordshire District Council (SODC) maintains the sewerage treatment plant but not the sewers. The sewers that feed into the plant remain the responsibility of the residents using it.
What this means is that in the event of becoming aware of any sewer blockage, then the SODC Environmental Health Officer will serve notice under the public health act on everyone upstream of the blockage requiring that they get together to arrange to clear the blockage within 48 hours.
Reality is that to organise such a clearance is unlikely. So if it's not cleared by the expiration of the deadline then SODC will arrange for a private contractor to clear it and then divide the cost between the houses upstream of the blockage and follow up to recover such costs from the upstream properties.
Local Bus Services
Moulsford is served by the 133 service from Going Forward Buses.
Current timetable is here: https://www.goingforwardbuses.com/moulsford-the-133/
Any specific bus service queries then please contact Breyan Knowles, Parish Transport Representative on 01491 651401 or by email b.knowles@btinternet.com
Free Weekly Bus Service to Tesco in Didcot
Tappins provide a free weekly bus service to the Tesco store in Didcot. The T3 service runs on Tuesday's and departs from the end of Underhill/main road bus stop at 9.20am. It then picks up at the Recreation Ground bus stop at 9.22am and after routing through the villages of East Hagboure, Blewbury, Cholsey and South Moreton arrives at Tesco at 10.10am. The return service departs Tesco at 12noon returning to Moulsford at approximately 1.15pm.
Pot Holes
Repair of potholes on the roads or pavement are the responsibility of Oxfordshire County Council (OCC). If you find a pothole on the road or pavement, you can report it direct to OCC using the web link below. Please include as much information about the location, size and severity of the pothole as possible, to help them deal with your enquiry.
Fix My Street: https://www.fixmystreet.com/around?js=1&zoom=2&lat=51.55004&lon=-1.14902
Neighbourhood Watch
Since January 2019, local Neighbourhood Watch activity in Moulsford has been coordinated through the Parish Clerk.
Local Police
The Wallingford Neighbourhood Policing Team comprises Inspector Emma Tompkins, Sergeant Robert Maris, PC Simone O'Dell, PCSO Sue Harris, PCSO Marie Deacon, PCSO Clare Beale and PCSO Sarah Jones.
Periodic "Have Your Say Meetings" are your opportunity to meet your local neighbourhood officers and have your say on policing priorities and concerns in your local area. No appointment is necessary just turn up and speak to your local officers.
Non-emergency calls can be made to Thames Valley Police on the 24 hour contact telephone number 101 and their email address is: is didcotandwallingfordNHPT@thamesvalley.pnn.police.uk, Twitter @tvpsouthandvale, Facebook www.facebook.com/tvpsouthandvale
Thames Valley Crimestoppers
Some people who have information about crime don't want to speak to he police and certainly don't want anyone to know who they are. So how do they pass on what they know? The answer is to call Crimestoppers on 0800 555 111.
Because the callers are anonymous, there is no way of knowing who they are. The calls are not traced or recorded and don't show up on phone bills unless made from mobile phones.
Crimestoppers removes any fear of reprisal, retribution or revenge. The critical point is that the information does get through and certainly makes a difference. This is because the police cannot solv crime on their own but need help from everyone. Sometimes the police know who the criminals are, but dn't have enough evidence to make an arrest. When information - often like the final piece in a jigsaw - is given through Crimestoppers, the criminals are caught.
The Freephone number 0800 555 111 should only be used to give information about people involved in crime or who may be planning a crime. The emergency 999 number should always be used if, for example, a crime is actually being committed. If anyone is not bothered about anonymity, then they can call the general police enquiry number: 0845 850 5505.
If you would like to know how to get involved with Crimestoppers, please contact:
Thames Valley Crimestoppers, PO Box 4818, Earley, Berkshire. RG10 0FT
Web: www.thamesvalleycrimestoppers.org or email TVCS@ehotspot.co.uk
Dog Owners
Please help to keep all our public places clean by cleaning up after your pets! Special bins are provided for the disposal of dog mess at various locations on the village recreation ground and near the Cranford hockey pitch.
Images of England
Researchers from the Images of England Photographic survey were in the village a few years ago taking photographs of listed buildings and milestones. The aim is to create a 'point in time record' of the 370,000 listed buildings in England, covering almost every town and village in the land.
To access this unique photographic record of England's architectural heritage and find out more, visit www.imagesofengland.org.uk